Why the Color Black is Your New Favorite Interior Design Trend
Often seen as a negative color, black in the home on the contrary can create a sophisticated and classic look. The hue is known for its sleek yet mysterious look and creates curiosity; which makes adding black to your home design a very appealing option.
Some of our favorite ways to incorporate black in the home.
A black and white contrasting color scheme allows for a crisp yet classic appeal. Often a soothing color combination, black and white is a great addition to any home new and old. This color scheme is especially great in the bathroom, as it can add the sophistication you are looking for.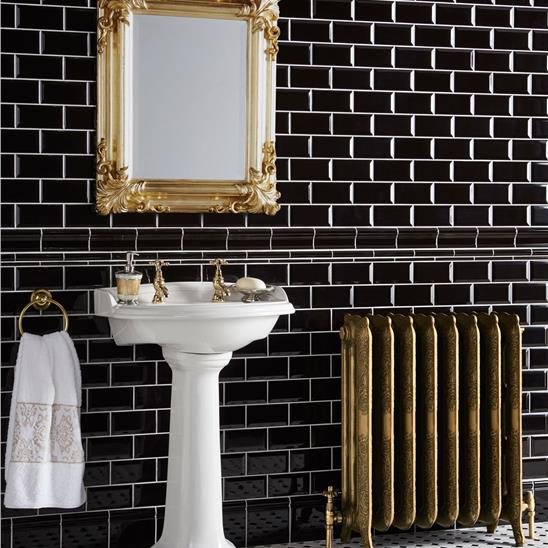 Adding a pop to your design theme, black and gold is an elegant and traditional feel. When black is mixed with a pop of color you get a sense of dramatic flair that can add curiosity to any space. Plus, gold is luxurious and who wouldn't want a touch of luxury in their own home?
The dark color and white natural veining of black marble offers a non traditional feel to natural stone. The presence of a black marble accent can bring your space to life! We're in love with the material because of it's many uses, not to mention it's natural beauty. Notice here that it can not only be used for walls and floors, but whole blocks can be custom carved to make the sink of your dreams. Whether it be in the bathroom or the kitchen, black marble is simply for us.
Versatile and elegant; black tile is really hitting big right now and we don't see it going away any time soon. Black tile can be utilized in so many different ways in virtually any space. This is the accent we have been waiting for but never knew we were missing .
Black Patterned Wallpaper
Black wallpaper offers a unique appeal to your home. Although wallpaper is a traditional form of decorating, when adding black, you get an unmatched elegance. Your home will have a sense of royalty with a hint of glam.
Black cabinets in the kitchen (images courtesy of Elle Décor) can add a modern sophistication and elegance to the space with a sleek and bold statement. Paired with stainless steel, white marble or even black counter tops; these cabinets are undoubtedly distinct and beautiful.
Black is formal, mysterious, sophisticated, and prestigious. When used properly it can boost our sense of confidence and increase a sense of potential and possibility. There is no shortage of unique, on trend ways to incorporate black in the home. Keep in mind that black works well with large, well lit spaces and to always do your research before making any big commitments. We would love to see what you have done with the color black in your home!
About the Author:
Jenna Raus is the Business Development Manager of
"Elite Design. Superior Craftsmanship. Rooted Reputation."
Odell's Service Areas includes:
Avon, Avon Lake, Bay Village, Westlake, Rocky River, Lakewood, Fairview Park, North Olmsted, North Ridgeville, Independence, Strongsville, Brecksville, Broadview Heights, Seven Hills, Vermilion, West Park, and other cities surrounding the Greater Cleveland, Ohio area.
Copyright 2019 - Odell Construction Inc.
Follow us on Blog Lovin' by clicking the link below.